Loon audio recording June 2021 – 6 calls recorded across two minutes, with in-between space edited out to be about 20 seconds play time.
Help us preserve the Wekepeke watershed areas, abandoned by the Town of Clinton in the 1960s, with dams left mostly unmaintained and deteriorating. Clinton had made the first step in the state/conservation approval process for destroying the dams — blowing up the dams would drain the waters and the hundred-plus-year-old wildlife area would be left to be a mosquito-ridden swampland. There's an easy solution and not too costly to preserve the dams and the conservation area if Sterling takes back control of the area.
(New Fall 2020 images added for Fitch Basin photo album collection)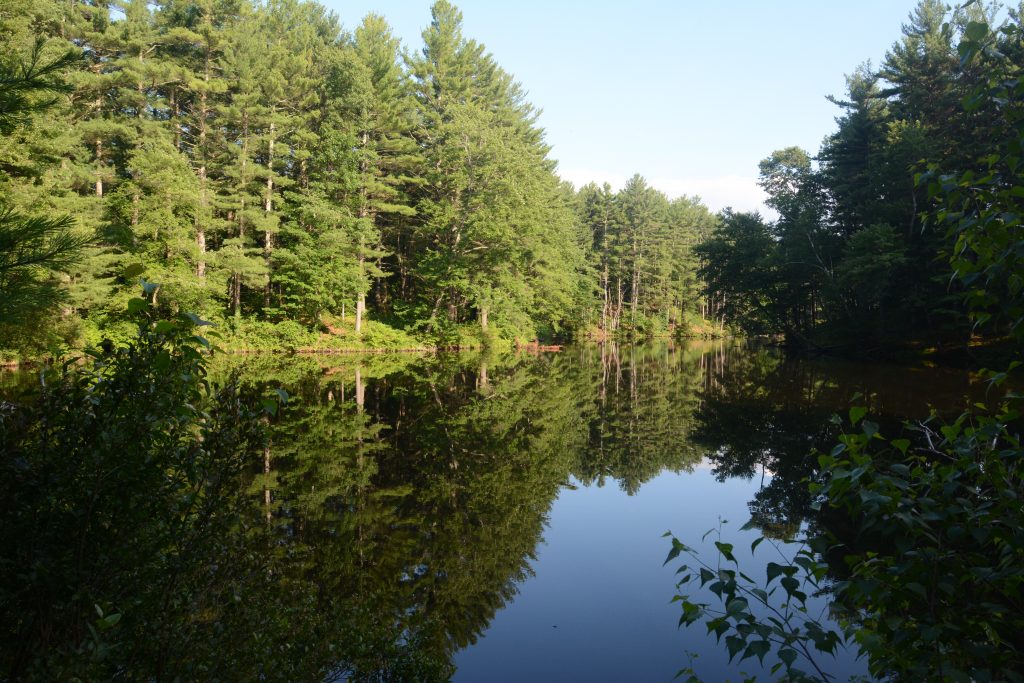 Located in the Upper Worcester Plateau ecoregion of central Massachusetts, the Wekepeke aquifer is primarily located in the northern part of Sterling, Massachusetts. 1,448 acres (586 ha), or about 20% of the aquifer, is permanently protected land. An additional 18 acres (7.3 ha) has limited land protection. Wekepeke Brook flows 5.1 miles (8.2 km) from Heywood Reservoir at the northern boundary of Sterling with Leominster, southeast to the community of Pratt Junction in the northeast part of Sterling, then northeast into the town of Lancaster, where it ends at the North Nashua River. The brook and aquifer, via the Nashua River, are part of the Merrimack River basin. Reservoirs on the aquifer include Heywood Reservoir, Fitch Basin, Spring Basin, and Upper and Lower Lynde Basins.[1]
Originally privately owned land for farming and livestock, the town of Clinton in the late 1800s petitioned the state of Massachusetts for the rights to possess the land of the Wekepeke as a Clinton public water supply. Some of the acquisition was a land purchase, while other parcels were taken by eminent domain. In the early 1960s, the Wekepeke was officially decommissioned as a town water source for Clinton, and the Wachusett Reservoir became the primary and sole water source for the town. From the 1960s on, the land was used primarily for recreational activity. In 2004, Clinton negotiated a conservation restriction (CR) to preserve the Wekepeke area. The State approved the CR and the town of Clinton residents approved the CR by vote, but the town of Clinton board never signed the CR. Currently, the town of Clinton is attempting to update the CR to make it "mutually agreeable" as was first proposed in the 2001 memorandum of understanding.